what3words location references added to Golf Independent golf course listings
Every active golf course in Scotland, all 555 of them, now has a what3words reference, to help you find their exact location - all input and listed on www.golfindependent.com.
You never need to be in doubt again where precisely a Scottish golf course clubhouse, or access point, may be, no matter how rural the course. Plus, we have added what3words references not only to every golf course listing on the Golf Independent website, but also to all our accommodation listings and to our sightseeing suggestions.
Mapping software is not always completely accurate when it comes to giving you directions on where some Scottish golf courses might be.
Now there is an option that will work with mapping software and keep you right – as long as you have the correct what3words reference for where you are going. With this information included on the Golf Independent website for every golf course in Scotland, a quick check on the relevant course page on www.golfindependent.com means you will always be able to load the correct destination.
what3words was created to help people describe exactly where they were if they found themselves in an emergency situation. The entire world has been divided into three metre squares, each of which has been given a unique combination of three words.
This three word system is therefore an easy way to find and share exact locations. And that's why we've added what3words references across our website.
No getting frustrated as Bing maps send you to Lochgilphead golf course when you wanted to find Lochgoilhead golf course, just enter ///admits.hires.bagpipes into the what3words website or app and you'll be pointed on to the correct course.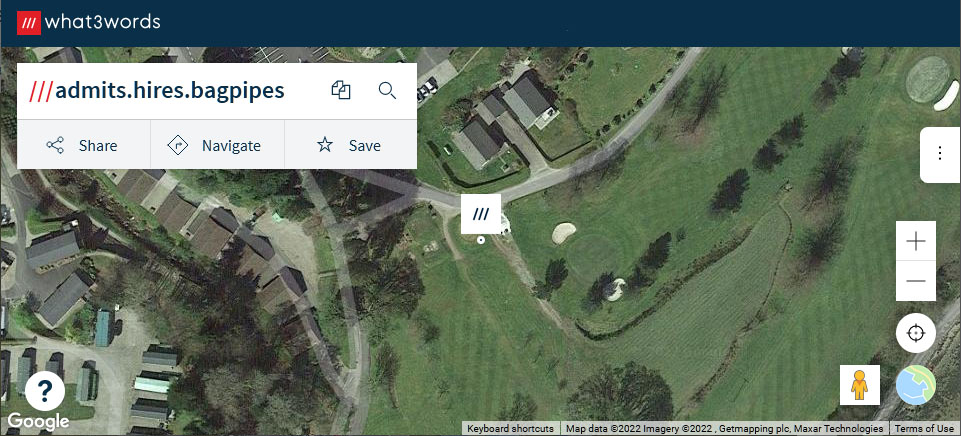 Just a small word of caution, what3words uses singular and plural forms of the same word, so be careful what you enter to find the right location.
More information on what3words can be found at what3words.com.
Published: 19 April 2022