Costs of playing Open Championship venues in Scotland
It has become fairly standard for high profile courses to raise their green fees year on year. But when updating green fee information on our website for 2022 one course stood out. The St Andrews Old Course green fees for the 2022 high season have increased to £270, from £195 in both 2021 and 2020.
This is a significant 38% rise which viewed in isolation may seem hard to justify. However, rather than making the Old Course an outlier, it actually brings it back into line with other Open Championship venues in Scotland. The change highlights how green fees have shifted in recent years, as illustrated by the graph below.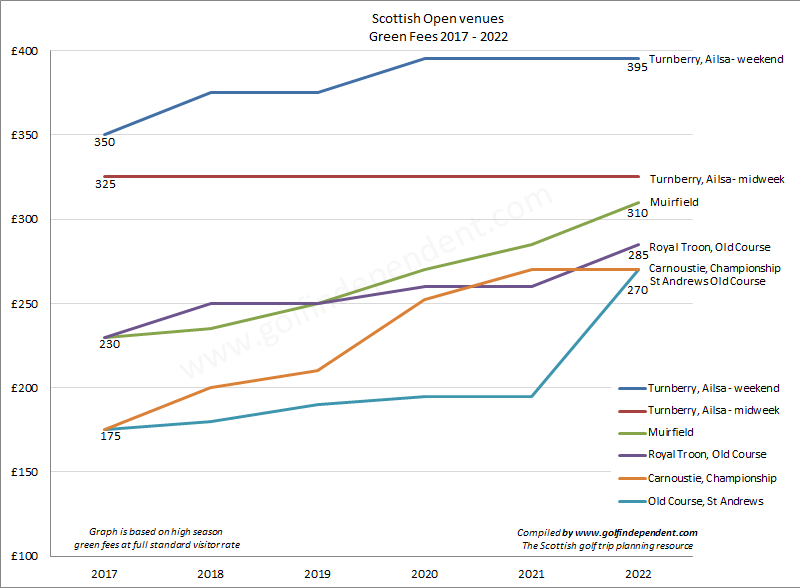 Going back 5 years to 2017, the St Andrews Old Course and Carnoustie Championship course were the least expensive of the Open Venues, charging £175 for a high season round of golf. This was significantly lower than Muirfield and Royal Troon, each of which had fees of £230 per round.
Over the next 4 years St Andrews Links Trust raised the Old Course green fees in relatively modest increments of £5 or £10 per year, while the other Open Venues moved ahead at different speeds – reflecting, no doubt, demand for times. It is worth noting that, in normal (pre-Covid) times, Royal Troon and Muirfield were regularly booked solid for the coming high season soon after their booking diaries opened for the following year.
With the changes in 2022 green fees the St Andrews Old Course once again costs the same to play as the Carnoustie Championship course. As the most sought after course for overseas golfers visiting Scotland, the most frequently used venue for the Open, and arguably, viewed as the most prestigious course to play in Scotland by visiting golfers, perhaps it is only to be expected that the green fees on the Old Course reflect the current price levels of its fellow Open Championship venues in Scotland.
The Old Course green fees are also just marginally above the English and Northern Irish venues on the current Open Championship rota.
As a further comparison, and point of interest, we've looked at all the Scottish courses which now charge £200 or over per round in 2022, and compared their increases since 2017. 15 courses in total have reached these lofty heights as illustrated in the graph below. There are 3 18 hole championship courses at Gleneagles which all charge the same fees.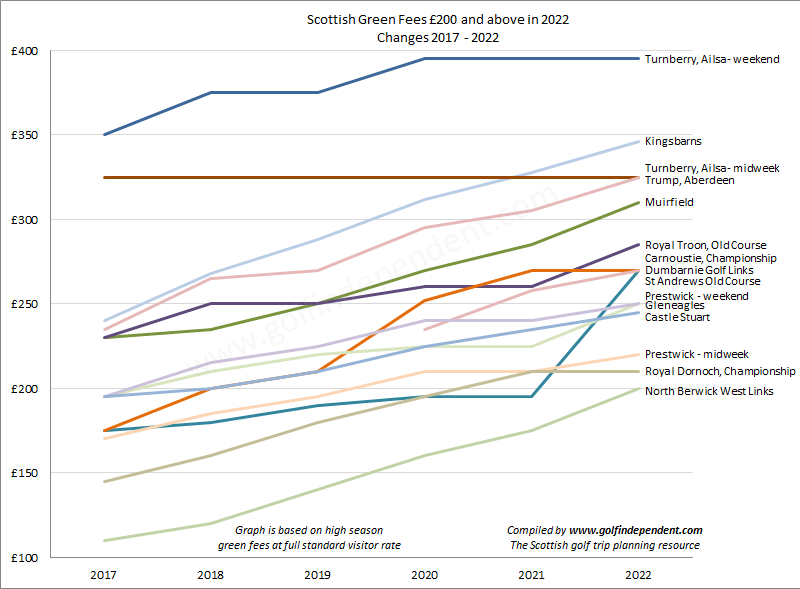 North Berwick West Links and Kingsbarns show the highest increases over the 5 year period to 2022. Castle Stuart and Prestwick have the relatively most modest increases, with Gleneagles and Royal Troon only just ahead of them.
If you are looking in wonder at North Berwick, as perhaps the West Links didn't feature on your expected list of Scotland's most expensive green fees, it is worth noting that North Berwick, as of now, are taking no further bookings from April to October 2022 as the visitor booking diary is full.
We've not specifically mentioned Turnberry so far as this venue is on a different level from the others – the green fees at Turnberry jumped significantly when the venue became part of the Trump portfolio. Green fees in 2017 on the Turnberry Ailsa course were £95 more per round than the next most expensive Scottish course. Weekend green fees on the Ailsa course have been £395 per round for the last 3 years.
So, to return to the point with which we introduced this post. While the St Andrews Old Course has seen a hefty rise in green fees in 2022 from the previous year, it brings the costs for playing the Old Course very much in line with similarly high profile, and popular, golf courses across Scotland.
Would you pay the green fees to play any of the courses covered above? Well, that's perhaps a whole different discussion.
Some small print:
For full disclosure, Carnoustie has increased green fees for the week of the 2022 Open Championship in July to £360 per round. We've left this one-off change off our graph. Similarly Gleneagles green fees will be £275 per round for most of July.
We have included Turnberry as a current open venue, as it has hosted the Open Championship in the last 20 years, although the R&A may not currently be saying yay or nay to it being a future venue.
The second graph was updated on 11 February 2022 to include
Dumbarnie Golf Links
, which opened in 2020 and which had been missed off the original post.
For more information:
Published: 08 February 2022